Beauty Disposable Supplies - Australia
Soyee manufactures and provides the beauty industry with delicate non-woven disposable beauty supplies and other disposable beauty products that present holistic solutions for all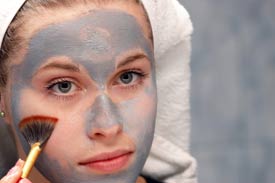 beauty and body treatments.
From the gentle arts of hairdressing and make-up, massage and nail treatment, to the pleasant surroundings of the Spa or Health Retreat, Soyee disposable beauty products and beauty supplies can provide your niche area with the leading edge in caring for your clientele.
The Soyee range of beauty disposables include:
PuriWipe® 'Spun Cotton' disposable wipes. Made from delicate spunlace non-woven materials that are soft and gentle on the skin, yet durable for any beauty, massage or nail treatment. Other disposables essential for facial treatments include:
Head Band with adjustable Velcro closure

Mob Cap and Bouffant Cap

Vichy Shower Cap

Facial Gauze Mask with holes for Eyes, Nose and Mouth

Face Mask with Loops

Make-up Protector or Dental Bib, PE laminated
Deluxe G-Strings, Disposable Underwear - Briefs and Panty, Body Wrap Foil, Body Wrap PE Sheet, Sarongs with Velcro Closure and Modesty Gown with Elastic.
We specialise in a wide range of gloves including Latex Gloves, Vinyl Gloves, Nitrile Gloves, Paraffin Arm-length LDPE, HDPE Parraffin Liners and Cotton Gloves.
Nail Treatment Under Pad
Nu-Bond Waxing Roll
Nu-Calico Waxing Roll
Terry Cotton Slipper with Rubber Sole
Nonwoven Slipper
Nonwoven Bed Sheet Roll
Flat Sheets – Plain or Embossed
CPE Fitted Mattress Protectors
3" Cotton Swab with Double Tip, Wooden Stem
3" SHARP Cotton Swab with Single Tip, Wooden Stem
6" Cotton Swab with Single Tip, Wooden Stem
Exfoliating Mitten with Double Nets
Tongue Depressor – Wooden Spatula
Paddle Pop Stick – Small Wooden Spatula
Eye Brow Beater
Orange Stick for Cuticles
As an OEM for the Beauty industry, Soyee is large enough to cater to your niche manufacturing requirements of disposable beauty supplies, yet small enough to remain in personal contact with our customers. Being partners with our customer is a high priority with Soyee – for your success means our success. To achieve this successful partnership we are committed to maintaining our level of high quality products in the beauty industry through continuous improvement, innovation and by exceeding our customers' expectations.
For the beauty therapist, hair-designer, make-up artist, massage therapist, nail artist and alternative therapist, Soyee disposable beauty supplies are there to serve your industry. Please feel free to call us during business hours on (02) 9792 8893, or fill out Beauty Disposables product enquiry form and we will reply to your enquiry within 24 hours.