Sticky Mats, AllKey, NewClean Brand - AUSTRALIA
Principles of good manufacturing practice (GMP) and quality assurance require that particle and microbiological contamination levels within any critical area should be minimised to prevent contamination. Two major sources of particle contamination entering critical environments are from operators' feet and trolley wheels. Sticky mats present a easy and highly effective method of minimising foot and wheel borne contamination.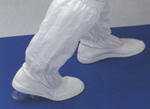 Product Aspects
Low Density Polyethylene sheets coated with Acrylic adhesive specifically engineered to remove and trap microscopic dirt particles.

Designed to maximise your control of microscopic foot and wheel borne contamination at entry point to cleanrooms or within controlled environments of research and manufacturing facilities.

Individually numbered sheets for easy removal and quality control.
Applications
Entry points to cleanroom and critical working environments of computer, electronic, photonic, semiconductor, pharmaceutical and medical device, manufacturing and research facilities, where microscopic foot and wheel borne contamination control is essential.
Product Description
Item No: SM-K-B2645

Material: Low Density Polyethylene, Acrylic adhesive.

Colour: Blue - ensures easy recognition when sheet should be changed

Size: 26" x 45" (other sizes available upon request)

Packing: 30 sheets per mat, 8 mats per case.